Welcome to Clash of Steel
---
Featured battle : Bouvines
Part of Franco-Angevin War
Date : 27 July 1214
In May 1214 King John of England had been defeated by Prince Louis of France and had retreated to La Rochelle. Emperor Otto of Germany, John's ally, brought Phillip II of France to battle at Bouvines. The superiority of the German foot was not sufficient to defeat the more numerous and well disciplined French knights.

Featured image :
Royal Sussex Regiment Monument, Brighton.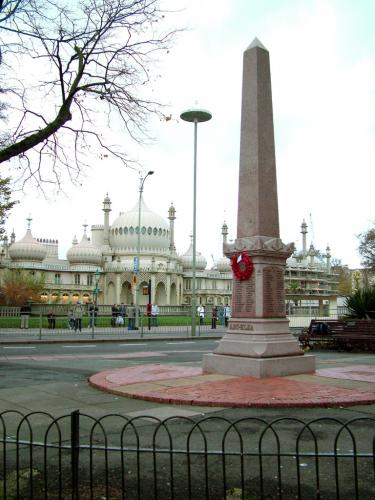 An unusual monument to the men of the 35th Royal Sussex Rgt. Who died as a result of their action in the Egyptian campaigns of the 1880's. The monument is of pink marble and stands outside the elaborate Royal Pavilion commissioned by George IV in the early 1800's. The inscription reads : "ERECTED BY THE OFFICERS, N.C.OFFICERS AND MEN 1st Bn ROYAL SUSSEX REGt. TO THE MEMORY OF THEIR COMRADES WHO WERE KILLED IN ACTION OR WHO DIED OF WOUNDS OR OF DISEASE CONTRACTED DURING THE EGYPTIAN CAMPAIGN 1882 AND NILE RIVER EXPEDITION 1884-85"
Gallery updated : 2014-11-18 16:57:25
Featured review :
Waterloo Archive Volume V: British Sources
Gareth Glover [Ed]


Another superb book in this series. This one has tapped a very rich seam of material hitherto inaccessible to anyone unable to read German. Though the whole book is most interesting Appendix 2 in particular appealed to me. It records some of the 'Glorious Feats' performed by men of the KGL and Hanoverian Army. There are also some excellent reproductions of original illustrations of uniforms and 'battle' scenes. See review of Volume VI for comment on the whole series.


Frontline Books, Pen & Sword Books Ltd., 2013



Reviewed : 2015-03-31 08:36:04
---