Welcome to Clash of Steel
---
Featured battle : Neumarkt-St Vieth
Part of The French Revolutionary and Napoleonic Wars
Date : 24 April 1809
Only part of Hiller's Austrians were in contact with the Bavarians on whom they inflicted significant casualties. Bessières came up with a French division [Molitor's] but assessed the situation and ordered a withdrawal on Vilsbiburg.

Featured image :
General Piet Cronje's saddle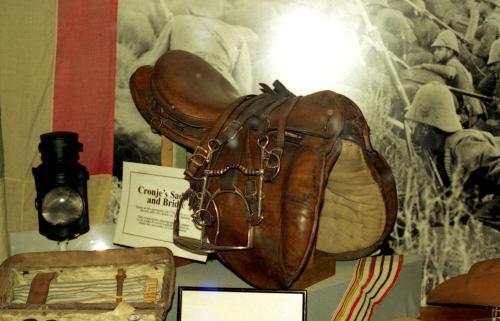 The saddle and bridle of Boer General Piet Cronje, surrendered after the Battle of Paardeberg to the Alexandra, Princess of Wales' Yorkshire Regiment (The Green Howards), Feb 1900.
Gallery updated : 2016-02-21 17:33:57
Featured review :
The Civil War in Yorkshire, Fairfax vs Newcastle
Cooke, David


Good new work covering the Yorkshire battles of the Civil War and the struggle between the Earl of Newcastle and Lord Fairfax. Also includes a section giving suggested walks around several of the battlefields and plenty of photographs.


Pen and Sword, 2004



Reviewed : 2011-09-30 00:00:00
---