Anniversaries for today :
Welcome to Clash of Steel
---
Featured battle : Pinkie Cleuch
Part of Anglo-Scottish Wars
Date : 09 September 1547 - 10 September 1547
The Scottish army [25,000] under the Earl of Arran were deployed along the river Esk in a position that would be very difficult to take by frontal assult. The English [16,000] under the Duke of Somerset although numerically weaker were superior in cavalry and artillery, and were supported by the fleet off shore. On the 9th the Scottish cavalry crossed the river and taunted the English to attack. This they did and the Scottish cavalry were destroyed as a fighting force. On the 10th the English began a move to their right and the Scotish response was to cross the river Esk. [Still a controversial move]. Once on this flat land without the river as a defence, the English superiority in cavalry and artillery soon won them the day.

Featured image :
Cliffords Tower, York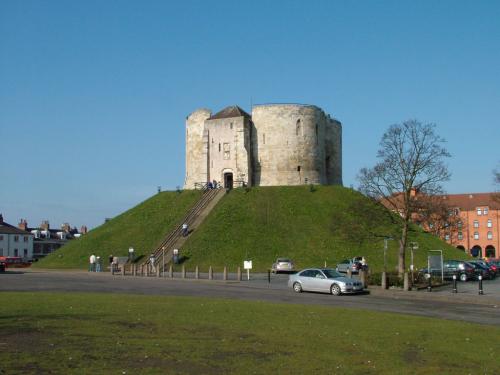 A intersting example of a motte and bailey castle, the mound being the remains of a wooden castle built by William I around 1068 with the four-lobed stone keep replacing the wooden structure in the 13th Century. It has a commanding view of the Vale of York and guarded the approaches to the city from the River Ouse - a major artery in medieval times. It was also the site, on 16th March 1190 of a massacre of the Jewish comunity in York at that time. The antisemitism stirred up by the crusades caused the Jewish people of York to take refuge in the castle in March which was then besieged by a mob led by the Sherrif Richard Malebys (or Malebisse), who was in debt to the Jewish money lenders. When supplies ran short they Jews decided that to surrender meant death so chose to take their own lives and those who did not die, were killed by the mob when it stormed the burning ramparts. A plaque at the foot of the present steps commemorates 150 men and women who died that night.
Gallery updated : 2016-02-21 17:33:57
Featured review :
1812 Napoleon in Moscow
Paul Britten Austin


It is difficult to evaluate this book which has a confusing conflict between style and content. As a style the author has adopted the appalling affectation of the use of the present tense to describe the past. This in parts makes gaining a clear understanding more difficult than it needs to be. The content is well researched and appropriately selected giving real insights into the French in Moscow. The real quality of the book is that we get to see the big event from many personal perspectives. In the introduction the author apologizes, and so he should, for his 'syntactic and grammatical deviations' for these in part make difficult reading of what otherwise would be a very good book.


Frontline Books, Pen & Sword Books Ltd., 2012



Reviewed : 2013-02-09 00:00:00
---