Welcome to Clash of Steel
---
Featured battle : The seige of York
Part of The Civil Wars of the Three Kingdoms
Date : 21 April 1644 - 15 July 1644
Following the serious defeat at Selby, the Marquis of Newcastle was able to re-garrison York but was immediately besieged by Lord Fairfax's Parliamentarians and Lord Leven's Scots. When the Earl of Manchester arrived with his forces to complete the encirclement, King Charles sent Prince Rupert to attempt to lift the seige. 2 attempts to storm the city's defences were made but both were drive off, and Rupert, by approaching from an unexpected direction (from Boroughbridge, rather than from Tadcaster as expected) bypassed the Parliamentarian forces sent to meet him and relieved the city. All would have been well but that Rupert then decided, against Newcastle's wishes, to then leave the city and meet Fairfax, Leven and Manchester in battle on Marston Moor (see entry). The completeness of the defeat of the Royalist army that day persuaded the garrison that no further help could be expected and they sued for terms.

Featured image :
Alvis Scorpion CVR(T) Light Tank - 1974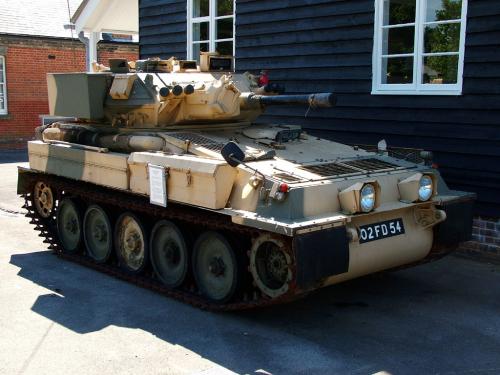 Protected by aluminium armour and mounting a 76mm main gun.
Gallery updated : 2014-11-18 16:57:25
Featured review :
Code Talker
Nez, Chester & Avila, Judith Schiess


A touching account of both the creation and use of the Navajo code used by the US Marines in the Pacific theatre from one of the original 29 code talkers recruited in 1942. It recounts Chester Nez's involvement in the creation and use of the Navajo code, unfathomable by anyone who wasn't a native speaker and considered impossible to learn, hence unbreakable by the Japanese. But not only is this an account of his and his fellow Navajo specialists' traumatic war from Guadalcanal to Guam and Peleliu. It is also a moving account of life as a Native American child growing up in a harsh land in the 1920's and 30's, caught between two cultures. It deals sensitively with his post traumatic stress disorder on returning from the pacific and his tribal, community approach to dealing with it. Running throughout is a strong sense of faith in the Navajo 'Right Way' of living and of justified pride in the way the native American community contributed to the war effort. A unique account, from one of the originals and highly recommended for anyone studying either the Pacific Theatre of operations or pre-war America.


Berkley Caliber, New York, Oct 2012



Reviewed : 2013-02-11 00:00:00
---