Welcome to Clash of Steel
---
Featured battle : Toulouse
Part of The French Revolutionary and Napoleonic Wars
Date : 10 April 1814 - 11 April 1814
More an assault on a fortress than a fluid battle although the bulk of Soult's forces were outside the city. Wellington formed a complex plan involving co-ordinated action by two British Corps, one Spanish Corps, two independent British Divisions and independent brigades of Hussars. The attack commenced at dawn but poor co-ordination meant little progress had been made during the morning. It was not until six in the evening that Soult finally withdrew all his troops into the city. Both sides had moderate casualty figures. About 9 pm on the 11th April Soult abandoned Toulouse and marched out towards Carcassonne, the allies occupied the city the next day.

Featured image :
Hawker Hurricane 1 (Replica)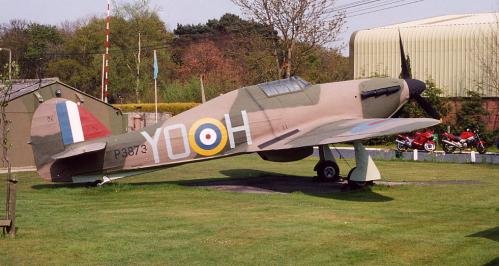 The Hurricane went into service with the RAF in 1937 and proved to be an excellent all-round fighter-interceptor, particularly in the Battle of Britain during which it claimed 80% of the RAF's kills. This replica Hurricane painted in the colours of 'P3873' of the Royal Canadian Air Force in which Hon. Hartland de M Molson OC OBE KstJ was shot down during the Battle of Britain. It is now the Gate Guardian at Elvington.
Gallery updated : 2016-02-21 17:33:57
Featured review :
The Irish Guards in the Great War
Rudyard Kipling


Not a lot of military history books could be better than the war diaries and personal correspondence of the First battalion of the Irish Guards written up by Rudyard Kipling with style. Although narrowly focused on this relatively small group of men it is essentially about every soldiers war. This is because it gets down to the minutiae of single men, section and platoon actions. The sweep of strategy and the grand plans are for other places. The text is well supported with illustrations and maps.
I thoroughly recommend this book to anyone seeking a full understanding of the Great war.


Spellmount Ltd., 1997



Reviewed : 2017-02-24 12:28:11
---