Welcome to Clash of Steel
---
Featured battle : Gorodeczna
Part of The French Revolutionary and Napoleonic Wars
Date : 12 August 1812
In spite of the French being outnumbered by more than two to one they still inflicted more casualties. The Russians withdrew southwards to Lutzk.

Featured image :
Aldershot Army Barracks through the ages.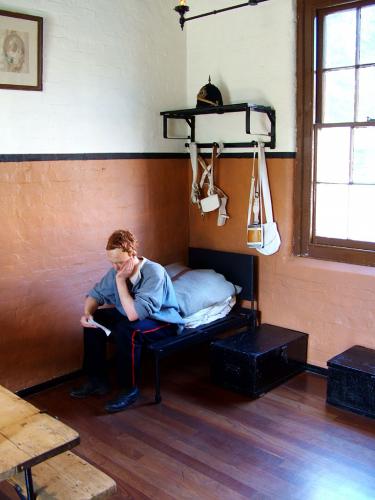 Two depictions of the kind of living quarters that soldiers would have had in two periods in Aldershot's life. One shows the barracks during the Victorian period, the other during the 1950's.
Gallery updated : 2016-02-21 17:33:57
Featured review :
The Irish Guards in the Great War
Rudyard Kipling


Not a lot of military history books could be better than the war diaries and personal correspondence of the First battalion of the Irish Guards written up by Rudyard Kipling with style. Although narrowly focused on this relatively small group of men it is essentially about every soldiers war. This is because it gets down to the minutiae of single men, section and platoon actions. The sweep of strategy and the grand plans are for other places. The text is well supported with illustrations and maps. I thoroughly recommend this book to anyone seeking a full understanding of the Great war.


Spellmount Ltd., 1997



Reviewed : 2017-02-24 12:28:11
---