Welcome to Clash of Steel
---
Featured battle : Torres Vedras
Part of The French Revolutionary and Napoleonic Wars
Date : 11 October 1810 - 14 November 1810
The British retreat across the Peninsular stopped at the prepared positions in the lines of Torres Vedras. Massena's cavalry made their first contact on the 11 October. Massena viewed the lines on the 14th October and realised he could not attack so formidable defence. He held position before the lines for four weeks occasionally probing and skirmishing before retreating twenty five miles on the 14th November because local foraging could no longer sustain his army. Massena had lost a significant number of men to hardship and starvation. With few shots fired and no battle being fought Wellington had won a significant victory. On the 6th March 1811 Massena began a full retreat.

Featured image :
WW2 British Paratrooper - MUR3_pathfinder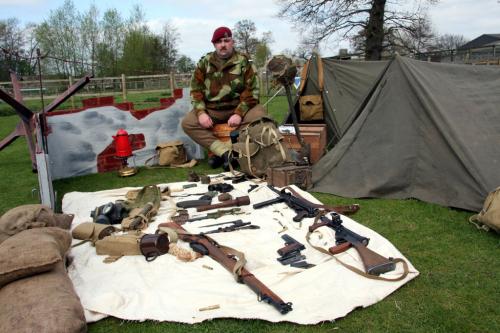 A member of the 22nd Independant Company, 6th Airborne Div. "Pathfinders" sent in to Normandy early on D-day to hold the eastern flank of the landings. Seen here with a selection of the equipment carried by the paratroopers.
Gallery updated : 2016-02-21 17:33:57
Featured review :
Nelson's Navy
Brian Lavery


I am tempted to write a very short review. This book is a masterpiece! The author himself says that this book does not exhaust the subject but I defy any reader to ask a question this book does not answer; masses of drawings, photographs and pictures round out the text. The book is big, beautiful and is a must for any Napoleonic historian's and interested general reader's bookshelf. Don't just take my word for it Patrick O'Brian, in the introduction, is full of high praise for the author's achievement.


Conway Maritime Press Ltd., 1989



Reviewed : 2016-10-10 15:51:57
---