Anniversaries for today :
Welcome to Clash of Steel!
---
Featured battle : Fuente del Maestre
Part of The French Revolutionary and Napoleonic Wars
Date : 03 January 1812
The Anglo-Portugese were part of General Hill's Corps conducting diversionary raids into Extremadura to cover the siege of Ciudad Rodrigo. The French cavalry formed part of the Army of the South, 5th Division Rearguard. This minor action made Soult aware that the Anglo-Portugese were present in force in the area.

Featured image :
Lockheed F-104-G Starfighter 64-17756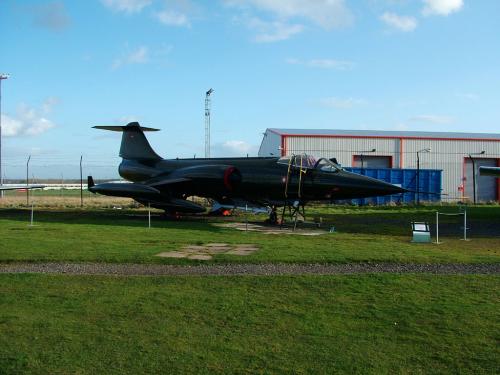 Although not popular with the USAF, the F104 (in it's C variant) flew in Vietnam in 1965. It saw most service, however, with European air forces in it's G variant. This example with it's distinctive dark colour scheme flew in the Royal Danish Airforce. The F-104 achieved many nicknames throughout it's sometimes controversial career. Initially "The missile with a man in it", after some high profile Lufwaffe crashes it became "The flying coffin" (Fliegender Sarg), Witwenmacher ("Widowmaker") and even "Tent peg" (Erdnagel). These were harsh, as a statistical study in Bowman, Martin W. "Lockheed F-104 Starfighter" 2000 shows that the F-100 had a worse safety record. Operationally, it mounted an M61 20mm Vulcan cannon (Gatling gun) in the fuselage, up to 2,000lbs of bombs on a central pylon, 2 x 1,000lbs of bombs on underwing pylons and 2 x Sidewinder AA Missiles on the wingtips. It could reach 1,450 mph and a max ceiling of 58,000 ft
Gallery updated : 2022-04-04 08:33:43
Featured review :
The Sieges of Cuidad Rodrigo
Tim Saunders


Here is a book that does just what it says on the cover and does it well and at the same time is an excellent insight into Napoleonic warfare in general. The sieges of Cuidad Rodrigo in 1810 by the French against the Spanish and the 1812 return match of the British/Portuguese against the French are dealt with in detail. The movements and engagements of the armies between the two events are covered sufficiently for the reader to grasp the strategic significance of the sieges. The book is rich in illustrations including photographs of things as they are today and one of the appendices is a battlefield tour guide.
The text flows easily with many appropriate contemporary accounts covering many aspects of the soldiers lives. Two of them will stick in my memory for a long time. One is of an Irish woman dropping out of a very tough winter march to have a baby by the side of the road and who then rejoined the marching column. The other is of a major who had his arm amputated and then wandered around to find a bed for the night. There are many similar accounts which enrich the narrative and get the reader closer to the reality of Napoleonic campaigning. I often have cause to complain about the maps in modern books but I don't need to here. To my joy the maps are excellent supports to the text, some are reproductions of contemporary maps and these are supported with new maps and battlefield plans which have both keys and scales.
There are four useful appendices and the bibliography is contained within the notes attached to each chapter.
We thoroughly recommend this book to anyone with an interest in Napoleonic warfare and especially to anyone thinking of visiting this area of Spain. My hope is Tim Saunders is going to write a similar book on the siege of Badajoz, an altogether bloodier affair.



Pen & Sword Military, 2018



Reviewed : 2019-01-28 11:58:13
---