Welcome to Clash of Steel!
---
Featured battle : Pearl Harbour
Part of Second World War
Date : 07 December 1941
In a surprise attack, at 07:55 on Sunday 7th December, aircraft from the Japanese First Air Fleet under Adm. Nagumo attacked Oahu Island and the ships of the US Pacific Fleet. The defenders were taken completely unawares (war had not yet been declared, due to 'administrative problems') and as a result 4 US battleships, the Arizona, Oklahoma, West Virginia and California were lost along with 11 other ships while all four remaining battleships were damaged and more than 250 aircraft destroyed or damaged. The Japanese lost 29 of more than 300 attacking aircraft and 5 midget submarines. However, the US carriers were at sea so were not involved, and the dock and harbour facilities were quick to recover, both factors which made a difference to the American response in 1942.

Featured image :
British Scimitar CVR(T) - turret detail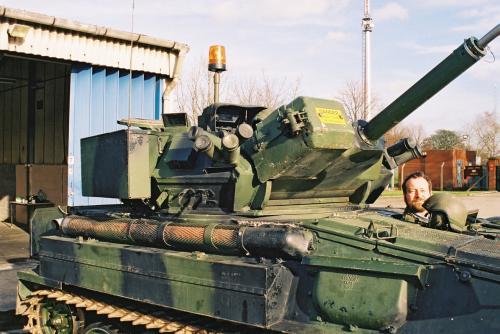 A close-up view of the turret of the Scimitar (see other entry for details) showing the targeting equipment and smoke grenade launchers, as well as the exhaust for the new Cummins powerplant and the side stowage containers just above the tracks.
Gallery updated : 2019-01-06 16:35:56
Featured review :
Into Battle with Napoleon 1812. The Journal of Jakob Walter
Jakob Walter. Edited & Annotated by Bob Carruthers


This is a re-presentation of the jounal which was first translated and published in America in 1938. Bob Carruthers has done a really good job in bringing this wonderful work up to date. His inspired selection and inclusion of the watercolours of Albrecht Adam, who witnessed many of the same events as Jakob Walter, makes the book even more enjoyable. That is if the brutal reporting of such a train of harrowing events can ever be enjoyed. The reader is left with an understanding of the life of a soldier in Russia in 1812 and thankfulness that Jakob kept a jounal. A must read.


Pen & Sword Military, Pen & Sword Books Ltd., 2013



Reviewed : 2013-04-30 19:15:12
---