Welcome to Clash of Steel!
---
Featured battle : Quebec
Part of Seven Years War
Date : 27 June 1759 - 18 September 1759
The French held and strongly defended the city of Quebec. A British fleet and army were sent to take Quebec. After a siege of nearly three months the stalemate was broken by an imaginative plan. The British scaled the Heights of Abraham at night from boats on the St Lawrence river. Both commanders were killed in the battle which virtually ended French resistance in Canada.

Featured image :
WE-177 Tactical Nuclear Weapon (Training round)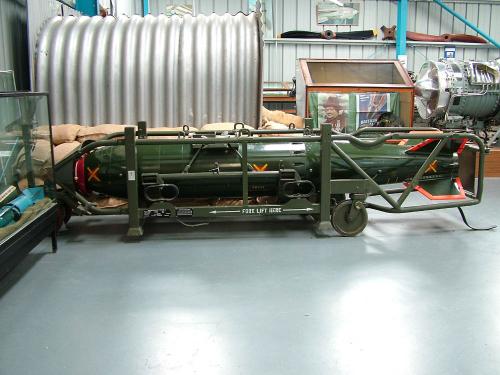 This WE-177 nuclear bomb training round (never armed with atomic material) is an example of part of Britain's nuclear deterrent from 1966 up the the 1980's. The WE-177 was designed to be delivered by Buccaneer, Vulcan and Tornado aircraft and was parachute-retarded to enable the deliverer to get beyond the minimum safe distance before it went off. There were 2 variants - the WE177a was a single stage 200 kiloton range variant (600lb weight, 112 inch length 16.5 inch diameter) and the WE177b (The two stage 400 kiloton range variant - 950lb weight 133 inch length 16.5 inch diameter). Each was capable of destroying a medium-sized city but were thankfully never used and the last remaining live examples were decommissioned at the Atomic Weapons Establishment, Aldermaston, in 1998. On the placard accompanying this item in the museum it states that this is only one of 2 thought to exist. This is incorrect, however, as there are other examples at RAF Marham , RAF Honingtion the RAF Museum Duxford ( RAF Cosford may also have one). [Additional details and corrections supplied by a source within the RAF]
Gallery updated : 2022-04-04 08:33:43
Featured review :
Waterloo 1815 Captain Mercer's Journal
Bob Carruthers


Part of the Military History from Primary Sources Series this slim volume [126 pages] is well illustrated with numerous almost contemporary illustrations. As a child I was told you should rise from eating a meal feeling as if you would like more. This book does just that for it is but a selection from the complete journal. It is a wonderfully balanced choice; the wide variety of subject matter in the complete journal is truly reflected here. If one hasn't read the full journal then this book is an excellent introduction - even an enticer to read more. Well written, well presented and therefore recommended.


Pen & Sword Military, 2012



Reviewed : 2016-02-08 19:23:02
---