Welcome to Clash of Steel!
---
Featured battle : Klissow
Part of Second or Great Northern War
Date : 09 July 1702
The Swedes under Charles Xll advanced into Poland with the intention of deposing Augustus. The Swedes all out attack against a numerically superior force resulted in heavy Saxon losses, although Augustus was able to extricate himself and most of his army.

Featured image :
Indian Sub-Continent, Africa and the Caribbean Memorial Gates, London.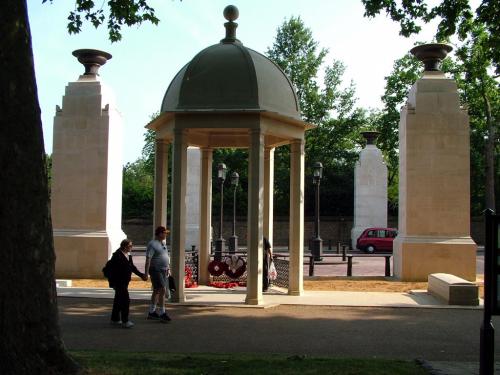 This memorial is dedicated: "In memory of the five million volunteers from the Indian Sub-Continent, Africa and the Caribbean who fought with Britain in the two World Wars." It was inaugurated on 6 November 2002 by Her Majesty the Queen. The four portland stone pillars bracketing the top of Constitution Hill are topped with bronze urns and bear the names of India, Pakistan, Bangladesh, Sri Lanka, Africa, Caribbean and Kingdom of Nepal. The inside ceiling of the dome on the pavillion records the 74 names of the Victoria Cross and George Cross holders from these areas in both wars.
Gallery updated : 2022-04-04 08:33:43
Featured review :
The Long Range Desert Group in the Aegean
Brendan O'Carroll


I read this book because I had enjoyed the author's Images of War book on the Long Range Desert Group in North Africa. [reviewed elsewhere on this site]. How could they change from motorized desert men to foot slogging island hopper?
How they did it comes early in this gripping story of small groups of highly trained and motivated men fighting their war. Every chapters reads like a Boy's Own story of daring do, of tough fighting and lucky escapes. But unlike adventure stories the heroes don't always get away. Those that didn't are listed in the Roll of Honour in the appendices. Brendan O'Carroll has done an enormous amount of research using both published and personal records. He gained the trust of ex-members of the LRDG and of the families of deceased soldiers. The result is a mass of information put over in a no nonsense easily accessible way. What is hardly mentioned, because the focus is so sharp, is the whole Aegean islands debacle which gives their noble exploits a context.
There are a few maps, some rather special photographs and a bibliography. I did find it useful to have read the desert book first as this seemed to fix the nature of the LRDG.
We highly recommend this book as a good read and as an insight into a little known war zone.



Pen & Sword Military, 2020



Reviewed : 2021-01-04 12:44:11
---