Welcome to Clash of Steel!
---
Featured battle : Langport
Part of The Civil Wars of the Three Kingdoms
Date : 10 July 1645
The Royalists under Lord Goring attempted to fight a delaying action to allow his baggage and some artillery to withdraw. He placed his 7000 men astride a road with boggy ground covering most of their front. The road he protected with cannon. The 10,000 Parliamentarians under Fairfax had little option but to attack along the line of the road. Fairfax first used his cannon to silence the Royalist cannon and then sent his cavalry closely followed by infantry along the narrow front. The Royalist troops broke and fled and although few were killed in the battle many were made prisoner. Unusually for battles of this period cannon played a decisive role.

Featured image :
British Saracen APC - head on detail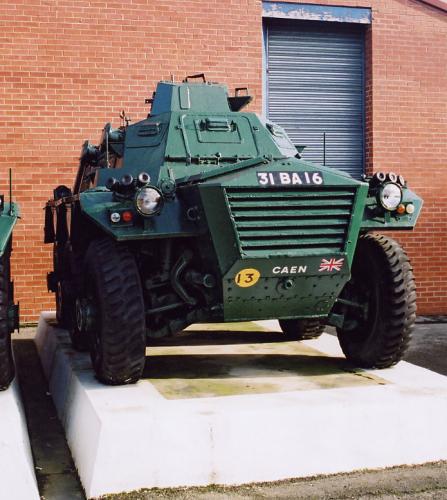 Built on the same basic chassis as the Saladin Armoured Car (see entry), this 6 wheel drive APC was designed in 1952 and has served with the British army until the 1990's, latterly in an urban role in Northern Ireland, and with many other countries until very recently. It had the same performance as the Saladin, a speed of 45mph, good cross-country performance and the ability to operate on 5 wheels to cope with mine damage. This particular vehicle, named 'Caen', was used by the Queens Own Yeomanry up to the late 1970's
Gallery updated : 2022-04-04 08:33:43
Featured review :
Naval Battles of the Second World War
Leo Marriott


This is a really good read. Together with a companion volume every major naval action of the Second World war is covered. Necessarily the coverage is brief for example the battle of the Atlantic has five pages of text, but every entry is supported with photographs and a map. The author's intention was to produce a basic guide and in this he has succeeded superbly. For those whose appetites have been whetted the selected bibliography guides them to more extensive descriptions of the battles.
This is a perfect introduction for anyone new to this field but the 'old hands' can still get a lot from it. We highly recommend Leo Marriott's book.



Pen & Sword Maritime, 2022



Reviewed : 2022-05-16 09:27:41
---