Welcome to Clash of Steel!
---
Featured battle : Delium
Part of Second [or Great] Peloponnesian War
Date : 01 November 0424 bc
Hippocrates commanding a force of 7,000 hoplites was in retreat when he was caught by the Boeotians under Pagondas. While the Boeotians were equal in infantry they had about 1,000 cavalry and numerous light troops in excess of the Athenian numbers. A hard fought infantry battle was swung in the Boeotian's favour when a large number of cavalry appeared on the Athenian right. Fearing another army and being encircled the Athenians broke and ran. Night prevented full pursuit but the Athenians lost over 1,000 men including their commander Hippocrates.

Featured image :
American Civil War, Southern Sharpshooter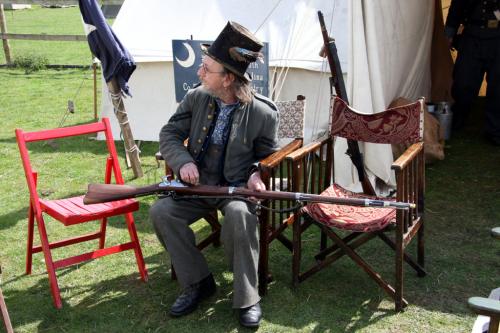 A sharpshooter of the 2nd South Carolina regiment cleans his rifled musket
Gallery updated : 2021-04-01 18:52:49
Featured review :
Napoleon's Peninsular War
Paul Dawson


In Paul Dawson's book we have an altogether different view of the Peninsular War. The sub-title is an accurate summary of the contents namely the French experience of the war in Spain 1808-1809. It was Napoleon's war but he spent less than three months in Spain. The substance of the book is the correspondence, both official and personal, which passed back and forth among those involved in the campaign. It makes for some fascinating reading, some real insights into the other side of the coin and the reality of soldiering for both sides in a gruelling war. What I found interesting was the nature of the private letters home. It may be a reflection of the author's selection but they were far more military focussed than the equivalent letters sent by British. For the French no mention of fox hunting or parties.
Paul Dawson claims to be pro-Napoleon but for me the message of the book and the Peninsular campaign is anti-Napoleon. He failed to give the necessary authority/power to anyone but himself so that his marshals disagreed and failed to cooperate. Napoleon's attempt to micro-manage from a distance was also a failure. The first hand evidence has been brought from the archives, some for the first time, which makes this book rather special and a very good read.
We warmly recommend it.



Frontline Books, 2020



Reviewed : 2021-04-12 10:49:22
---