Welcome to Clash of Steel!
---
Featured battle : Venta del Pozo
Part of The French Revolutionary and Napoleonic Wars
Date : 23 October 1812
Considered by some observers to have been the hardest fought cavalry mêlée of the war. It is interesting to note that German troops fought on both sides in this conflict. The Light Infantry battalions of the Kings German Legion fought with particular distinction they were awarded the battle honour 'Venta del Pozo'.

Featured image :
Hawker Hurricane 1 (Replica)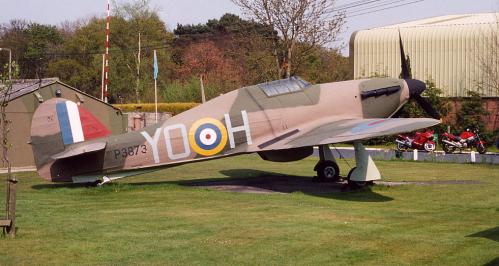 The Hurricane went into service with the RAF in 1937 and proved to be an excellent all-round fighter-interceptor, particularly in the Battle of Britain during which it claimed 80% of the RAF's kills. This replica Hurricane painted in the colours of 'P3873' of the Royal Canadian Air Force in which Hon. Hartland de M Molson OC OBE KstJ was shot down during the Battle of Britain. It is now the Gate Guardian at Elvington.
Gallery updated : 2019-01-06 16:35:56
Featured review :
How the Navy Won the War
Jim Ring


To the general reader the idea of the Navy winning the First World war may appear odd. 'Everyone' knows of the mighty battles the army fought and that the Navy had only one major engagement. Reading this book will change their minds. As the author points out in the introduction 'This story, by no means unfamiliar to naval and military historians, is one which has never captured the public's imagination…'
Throughout this book the interesting premise is well developed. Jim Ring has done his research well and could have presented a dry academic exercise but the story flows from event to event at a pace to reflect the developing situations in a gripping and most readable way. The land story, the sea story, the political and the military are intertwined and have a cohesion which makes for easy understanding.
The book is not large, 232 pages, including a group of thirteen photographs. The content is, therefore, an overview with very little detail but the extensive seven page bibliography points the reader towards an extension of any of the events and persons they wish to follow up.
This is a book should capture the public's attention and imagination, as the author intended, and we thoroughly recommend it. After reading it the First World war will never appear the same again.



Seaforth Publishing, 2018



Reviewed : 2018-10-22 10:11:35
---