Welcome to Clash of Steel
---
Featured battle : Torres Vedras
Part of The French Revolutionary and Napoleonic Wars
Date : 11 October 1810 - 14 November 1810
The British retreat across the Peninsular stopped at the prepared positions in the lines of Torres Vedras. Massena's cavalry made their first contact on the 11 October. Massena viewed the lines on the 14th October and realised he could not attack so formidable defence. He held position before the lines for four weeks occasionally probing and skirmishing before retreating twenty five miles on the 14th November because local foraging could no longer sustain his army. Massena had lost a significant number of men to hardship and starvation. With few shots fired and no battle being fought Wellington had won a significant victory. On the 6th March 1811 Massena began a full retreat.

Featured image :
Bren Light Machine Gun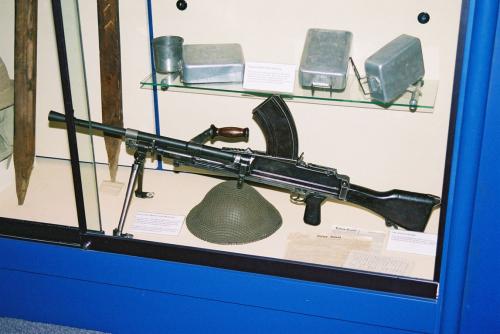 The main LMG used by the British during World War 2, this is a Bren mark II from 1942.
Gallery updated : 2018-08-16 14:49:12
Featured review :
The Very Thing
Jonathan Crook


The title neatly sums up my opinion of this book it is the very thing for anyone with a keen interest in Napoleonic soldiering. Part of the long military history of the Royal Welch Fusiliers is told through the memoirs of Drummer Richard Bentinck from 1807 to 1823. The story travels from Copenhagen to North America to the Peninsular and finally to Waterloo and the occupation of France. We get a fascinating insight into the life of the ordinary British soldier not all saint and not all sinner
A thoroughly good read which I cannot recommend too highly.


Frontline Books, Pen & Sword Ltd., 2011



Reviewed : 2016-06-07 19:25:08
---